Our Service Offerings
It's not just about technology, it's about people
AEi offers a comprehensive range of services covering the lifecycle of your camera production.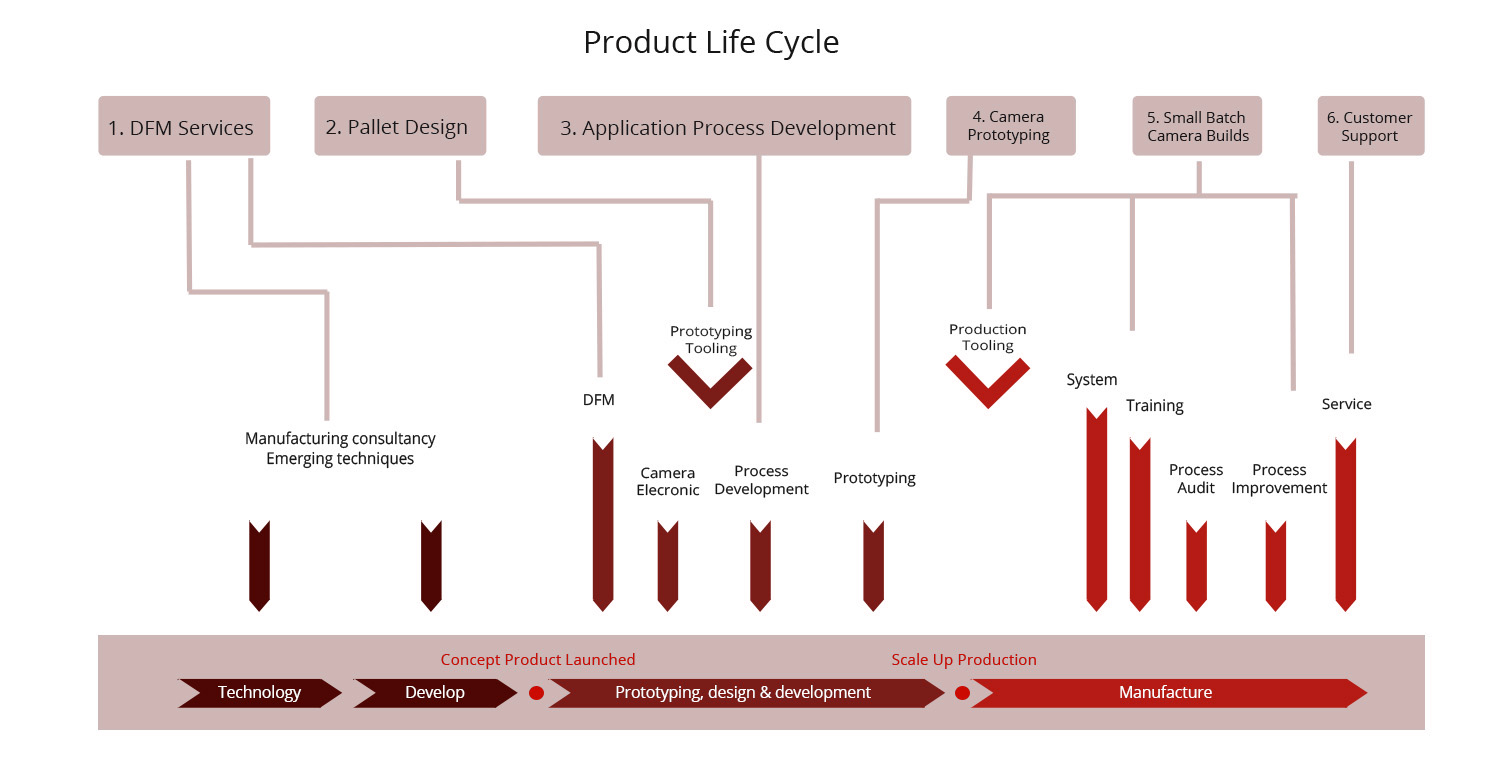 1. DFM Services

Maximize throughput, minimize rejects, assure consistent accuracy from camera to camera by designing not only for technical performance but also for the production process. AEi brings extensive experience of automated assembly and through Design For Manufacturability (DFM) Services assuring the most efficient match between camera design and your production tooling.
The Design For Manufacturability Review examines:
Methods for locating the camera for the most precise alignment
Use of camera materials for the strongest bonding
Compatibility of geometries of camera and tooling for the most efficient accurate handling
Reliability of electrical connections for power and signaling
Tolerance issues that may arise from definition of datums
Compatibility with robot handling
The DFM report provides feedback for recommended and required improvements to meet or exceed manufacturing objectives. Our team of experts will meet with you, discuss your unique requirements and provide a written report of findings.
This service is provided at the basic level with every Pallet Design Project. In-depth reviews may be arranged at any stage of the product life from Concept, where we can help identify the most challenging aspects of the proposed camera, to in-production reviews to diagnose and recommend improvements for yield and cycle time.
2. Pallet Design Service
The Pallet is a critical component of the AEi system.  In other systems pallets simply transport material from process station to process station.  The AEi pallet system permits the system to be a standardized platform for precision camera assembly.  The customization for the needs of each camera type is incorporated in the pallet.  This permits very rapid changeover between the full range of camera types in production. Pallets provide repeatable mechanical referencing, high speed data transfer, and optical fixturing for the camera components as they are presented at each process step in the CMAT and PCT systems.
The Tooling Engineering team specializes in providing these optimized fixturing solutions to address your specific camera needs. The solutions also support efficient interfaces with robot load/unload as part of full integration into the overall production line.We develop standard solutions for Power Over Coax, MIPI, Parallel, LVDS camera interfaces.
By offering a complete service from pallet design through to detailed implementation of the production ready solution, we ensure that the final product will perform as required. Tapping the full capability of AEi's innovative, integrated solutions will pave your way to success in this fast-changing environment.
3. Application Process Development
AEi systems produce more than 60 Million Actively Aligned cameras per year. Accuracy, throughput, and yield  comes from thorough and detailed Process Development. This work involves bonding surface preparation, pre-assembly defect testing, precise structural adhesive control, and alignment process optimization. delivering a robust assembly process.  AEi is the partner of choice for when you need your machines to reliably and economically produce the finest Automotive cameras in high volume.
Process Development includes:
Process files for controlling process flow
Camera control for best images and methods for analysis
Process parameters that provide for fastest convergence of the alignment process
Optimized compensation for open-loop factors such as adhesive shrinkage
Identification of Optical target requirements.
Positioning of Regions of Interest (ROI) for best optical analysis during the alignment process
4. Camera Prototyping and Testing – Hitting the Market Window
Today's Optical marketplace is evolving rapidly bringing the power of machine vision to enable decision making in critical applications including Autonomous Vehicles and Safety systems.
Camera prototyping is essential to successfully completing and testing camera design for all critical applications including ADAS, defense and security. We offer deep process engineering expertise in developing the assembly and test processes you require to produce your initial sample and beyond as you scale production.
Our ability to rapidly develop tooling including 3D printing even for very high accuracy supports rapid turn, high performance proofing of your designs. ASMPT is happy to work with you to customize a solution that enables you to turn your innovative ideas into competitive advantages in the least possible time.
To assure maximum learning and leverage of the prototyping and testing of early design to rapid deployment of tooling and processes in high volume production, we use AEi standard development and production equipment. What you learn from prototyping can transfer seamlessly to final production units, tooling, and processes.
We typically engage early with the camera development team and follow through to production. Some of our most successful collaborations have started with the cameras in the concept stage.
Services provided in support of Prototyping and Testing include:
Camera design review and Design-for-Manufacturability (DFM) feedback
Rapid Tooling design and assembly for prototype camera build
Adhesive evaluation for best curing and profiles
Prototype and engineering camera samples built at our facility on production ready machines
Characterization and camera performance report
Lens characterization
Plasma surface preparation for optimum bonding
5. Small Batch Camera Builds – Our Contract Manufacturing Service
Combining our teams' experience and in-house camera assembly and test production equipment, AEi offers a turnkey solution to assemble and test a small volume of cameras for quantities up to 10,000 pieces annually of a same type. Unlike prototyping, this service is dedicated to released products for which design and process are set. In high quality environment, with state-of-the-art technology, it is the perfect solution for customers with small volume needs.
Services provided include: 
Plasma surface preparation for optimum bonding if required
Adhesive dispense and sensor testing
Active Alignment
Full thermal cure
Post cure tests
6. Customer Support
ASMPT offers comprehensive, global technical support throughout the Americas, Europe and Asia with the goal of maintaining machine uptime and customer productivity.  Our world-class support capabilities include:
Experienced applications and field service personnel in Asia, EU and NAFTA regions
24/7 worldwide phone support and remote diagnostic capability
The ASMPT service team provides complete warranty support, post-warranty contract services and support for all of our equipment. Our service team is focused on providing the knowledge, skills and preparation to address routine maintenance, customer training, emergency support or any other issue needed to enable the success of our customers. This includes but not limited to the following:
Installations: We project manage the complete installation of your system and ensure you are operational from day 1.
Relocations: Machines need to move for various reasons. Both within a factory or to new premises. We project manage the decommissioning and re-installation of the system including calibration.
Calibration: As a distinct service we offer the calibration of a new installation or the re-calibration of a system that has been in the field for years.
Field upgrades: We understand that requirements change over time and to keep your system relevant to your needs we offer an upgrade at your premise.
Trouble shooting: Our service covers phone, remote, email and on-site support to keep your productivity high.
Preventive maintenance: Our preventive maintenance program ensures your system is operating at its maximum efficiency 24/7.
Training: We offer technical engineering and maintenance training to allow you fix your own problems on site.
Process improvement: A finely tuned process that supports a good workflow is crucial for achieving high productivity. We can help you identify your bottlenecks and how to resolve them.